Address:
PO Box 331
LaPine, OR 97739
Phone: 541-536-4898

Gustafson Fire Prevention Services, LLC
P. O. Box 331
La Pine, OR 97739
541-536-4898
Gustafsonfireor@gmail.com
Owned and operated by James Gustafson. Thirty-one years structural fire service experience, 22 years as Fire Marshal, Fire Cause Investigator, Fire Safety Plans Examiner. Nine-year member of the Oregon Chimney Sweeps Association and a Certified Chimney Technician.
Licensed / Bonded / Insured
CCB #190415
Gustafson Fire Prevention Services, LLC specializes in service and cleaning of solid wood burning appliance chimney systems and pellet stove chimney systems. We also install, repair, replace and inspect Class "A" Metal Chimney Systems.
Our service area is Southern Deschutes County, Northern Klamath County and Northwest Lake County. Including the areas of: Sunriver, La Pine, Crescent, Gilchrist, Crescent Lake, Two-Rivers North, Chemult, Fort Rock,  Christmas Valley and Silverlake.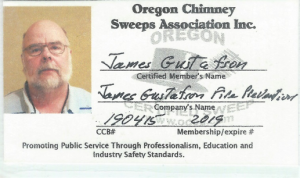 Gustafson Fire Prevention Services LLC